Hooray!
Done! Finally we finished the work on a remarkable and necessary project.
Each of us probably remember the days when parents read us fairy tales at bedtime. Fairy tales develop our imagination, bring up in us kindness, compassion, ingenuity, and many other qualities necessary in life.
The years past, we have grown up, we also have children now and no wonder that we read fairy tales to them at bedtime too. Yes, times are differ, but the books did not disappear. Although it is more difficult to find something new. Such publications are printed fewer and fewer. It's no joke, the age of computer technology and general globalization, isn't it? This is a reason why many publications, including newspapers, present all their works in electronic form. In particular it became noticeable with the appearance iPad from Apple on the market.
Precisely with such a look to the future the Russian developer of applications for the platform IOS –  AppGrade team, wrote its not application "Умные Сказки" ("Clever Tales – RU"). Application became sufficiently popular and even visited the AppStore top chart. Programm is free and is focused exclusively on the Russian-speaking audience. But we would be happy to share it with English-speaking brothers and neighbors! Why not? Because of high competition the reader is obliged to be much more attractive. Blessing, we have desire a lot of ideas, forces and even money! Not surprisingly, that was born the parallel development – "Clever Tales for Kids". Application became commercial and have got a lot of interesting things.
As you remember, MNoso is working with AppGrade team already on several projects. And I would say even more, that is on our initiative provided outlines to the application "Умные Сказки" served as a starting point for the birth of "Clever Tales for Kids" a year ago. In these sketches was born the idea to teach the application to understand the time of day. In turn, this functionality successfully migrated to other programs from AppGrade. Thanks to these sketches the "Clever Tales for Kids" got the ability to change themes. Fairy tales became musical, what is good, because becoming an application, oriented to the foreign market, it does not lose orientation to the native market. In the reader you can set the desired language English or Russian!
Now a little bit about working on the design:
As I mentioned before, the sketches were presented a year ago, but this job did not go faster, something have to be fine-tuned or alter, it was added new items and different functionality. That only cost saver?! Her options were almost fully developed three times. And this despite of a sufficiently large number of sketches!
First version, associated with "The Walt Disney Castle", has disappeared. Second one just was not in the style of fairy tales. Finally, the third version of the saver satisfied everyone!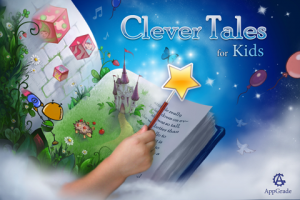 Now the programm finally looks like this!
Like any other product that also needs advertising, for which sake which was created a big number of banners!
Enjoy your reading!